At the Sunlight Group, we develop technologically advanced energy storage solutions that enable industries as diverse as renewables, transport, logistics, and shipping to transition to net zero. We're looking for the right talent to help us accomplish this goal and become part of a global family, every member of which is recognised and valued for their contribution in developing the solutions that will power a more sustainable planet. We are a fast-paced, technology-agnostic, and data-driven organisation with a firm belief that knowledge is power, and power is knowledge.
Sunlight specialises in designing, developing, and distributing the next generation of energy storage products for industrial and off-road applications, with a particular focus on Research and Development (R&D). As a leading multinational manufacturer in both lead-acid and lithium-ion phosphate battery technologies, we own plants and subsidiaries in Europe and North America, and export to over 100 countries.
The company was founded over three decades ago in Greece, which remains at the heart of our constantly expanding global group. We operate a manufacturing plant in Xanthi and a recycling plant in Komotini –both in northeastern Greece– and two assembly units in Verona, Italy and North Carolina, USA.
In Europe we are one of the sector's leaders in innovation, heavily investing in R&D and particularly lithium. With more than 12 years of experience in lithium technology, we continue supporting our R&D team with the addition of a brand-new R&D centre, staffed with 70+ scientists – all dedicated to researching innovation in lithium-ion cells and module technologies.
The US is a key growth market for the Sunlight Group, and we are committed to significant investments into the North American battery sector over the next two years through mergers, acquisitions and by expanding operations at our North Carolina plant.
Firmly committed to reducing our environmental impact and conserving the natural resources needed for the manufacturing of our batteries, we are also keen to develop lithium-ion recycling processes in addition to our existing lead-acid recycling operation.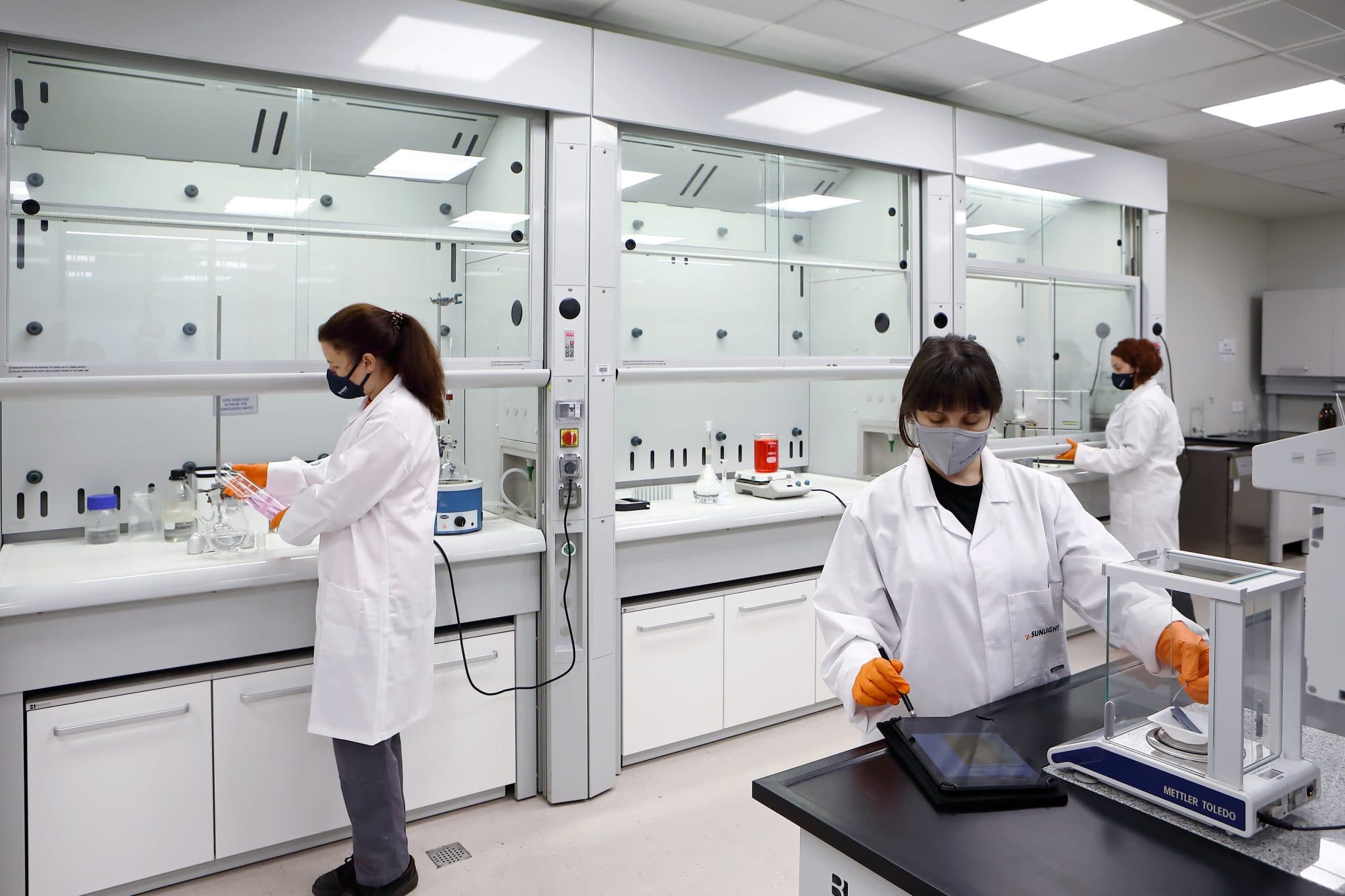 Attracting talent who can learn from the best
At Sunlight, we don't compromise when it comes to recruiting and employing the best talent. We nurture teams of innovative thinkers with strong backgrounds, in-depth expertise, holistic approaches, and growth mindsets. Because we're keen to inspire our staff to evolve along with the company's own global expansion.
Investing in R&D is at the core of Sunlight's current and future success. The research we carry out at our new centre produces the best-in-class solutions for all sorts of industries to transition to clean electrification. This helps make net zero ambitions a reality.
When discussing R&D, however, what we are really talking about is people: scientists, engineers, and other young professionals with brilliant minds and fresh ideas, who can work as agile teams to accelerate product development, fast-track processes, and go the extra mile for customers.
Whether related to R&D, business development, marketing or sales, nurturing talent is key to ensuring we are a world-leading provider of integrated and innovative energy storage solutions, using cutting-edge technologies and leveraging our experience to transform the sector and capitalise on new opportunities.
We know that talent needs resources, support and mentoring to achieve full potential. From competitive salaries to promoting a continuous-learning culture, we make sure every employee feels valued and proud to be part of the Sunlight family.
Control your own career path
Sunlight Group employees can expect continuous learning opportunities, as we invest in individual development and training plans to meet personalised needs. We award self-managed training budgets so our staff can shape their own learning paths. We also cultivate ownership and responsibility when it comes to self-management, placing great emphasis on open communication and honest feedback as tools to leverage and support personal growth.
Fostering collaboration to capitalise on new opportunities
We value individual excellence as part of a company-wide collaborative culture. Within our multitalented, multicultural family, we are guided by a strong purpose and transparent rules of engagement. We're not afraid to make mistakes, because that's often how breakthroughs and successes are achieved. At Sunlight, we thrive by recognising, appreciating, and learning from everyone's unique skills and competencies.
Time to rise and shine

The most rewarding careers are those that lead to change for good. At Sunlight, you'll be joining a global family of highly-skilled, highly-focused, and highly-motivated people, all striving to develop solutions for increased sustainability.
Energy storage is a global market, and the Sunlight Group is committed to investing in its future. By joining the Sunlight Group you'll become part of a game-changing company that is committed to addressing global challenges, while also helping you meet your own career goals.